Medical & Wellness.
Compete® Health & Medical CRM Software
Learn how the top performing medical & wellness operators leverage our member management software for optimum service and healthy outcomes.
Providing a people-focused CRM.
We provide a centralized CRM software solution focused on helping wellness operators manage their centers, engage their member
base and improve their bottom line.
Schedule a Demo
Already using the CRM? Log in here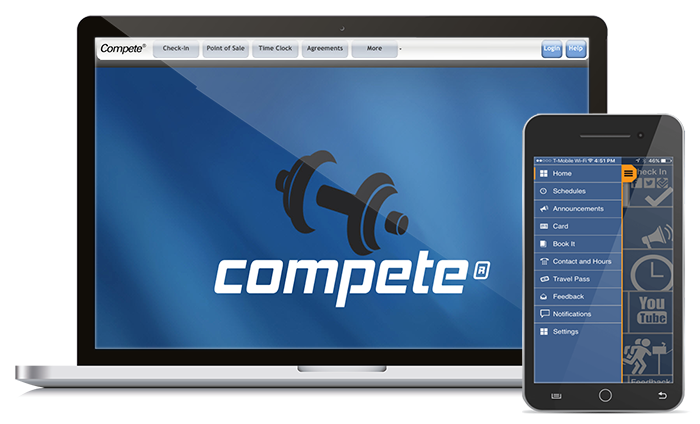 The preferred software provider of the Medical Fitness Association's Director of the Year
The Valley Health Wellness & Fitness Center supports the health and fitness needs of the Winchester, VA community by providing a high-quality facility, professional staff, and programs in a unique, supportive environment. 

Learn how award-winning Dir. of Operations, Jeff Jeran, leveraged our software to save over $190k in a one-year span.
Helping wellness operators get a better pulse of their business.
This is Compete® at a glance.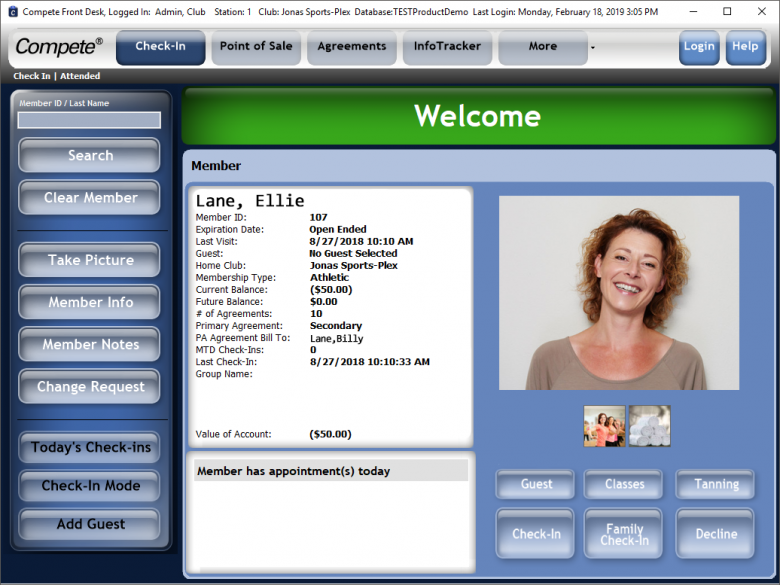 Compete® Front Desk Check-In
Staff-friendly, touch screen optimized Front Desk.
Our intuitive Front Desk module is a user-friendly application that allows you to check in a member, add notes, sell memberships, complete POS transactions and much more!
Designed for the active club environment, it boasts a touch-optimized interface that allow for easy navigation. On the back end, our front desk was developed to give your staff the visibility they need into various member alerts and profiles. Our Front Desk supports a wide range of connected hardware peripherals and allows for role-based security to control data access by your staff.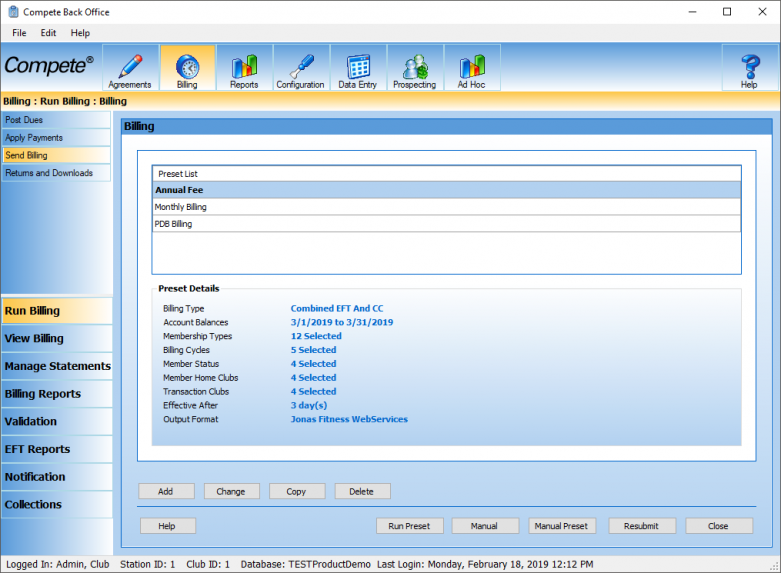 Compete® Back Office Billing Module
Comprehensive Back Office Hub
Our comprehensive Back Office module is the heart and soul of the system. Here, you can configure club roles, create/modify agreements, edit member profiles, run your billing, create billing presets and access any custom or ad hoc reports…. and that's just the beginning.
The level of customization in our back office truly lets you keep a close eye on your business and provides you the data you need to make informed business-decisions. As with all facets of our solutions, the back office is entirely integrated with your database – this means that any change made in the front office or back office alike is reflected immediately in your records.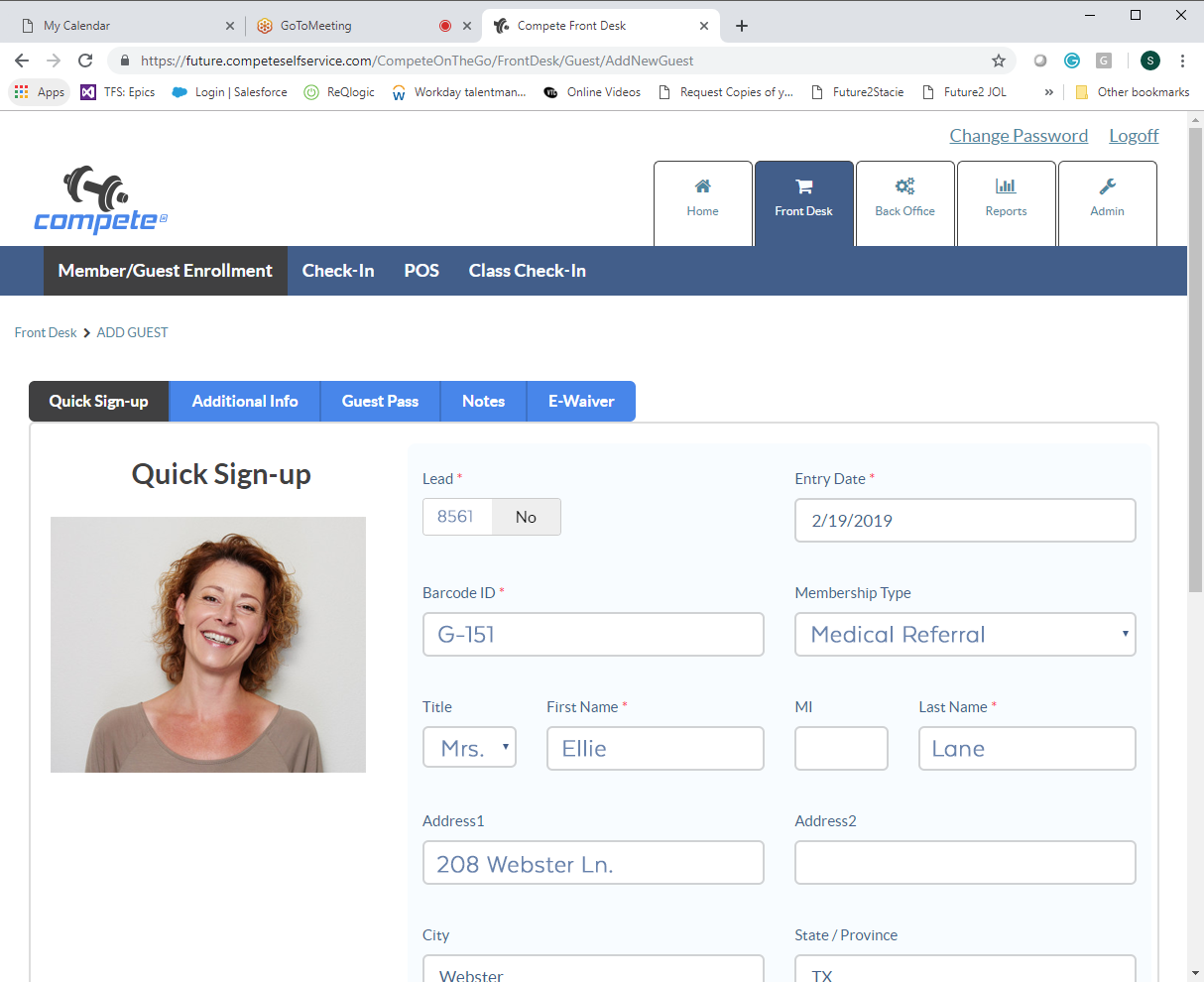 Compete® on the Go 'Quick Sign-Up'
'On the Go' Connected App
Imagine not being tied to a computer when signing up a new member – why not complete new membership agreements while giving them a tour of your club or when on an off-site promotional event? Enter Compete® "On the Go".

Compete® "On the Go" (COG) is the mobile arm to our club management software. There is no longer a need to be tied to a computer when signing up a member or even enrolling them in a class.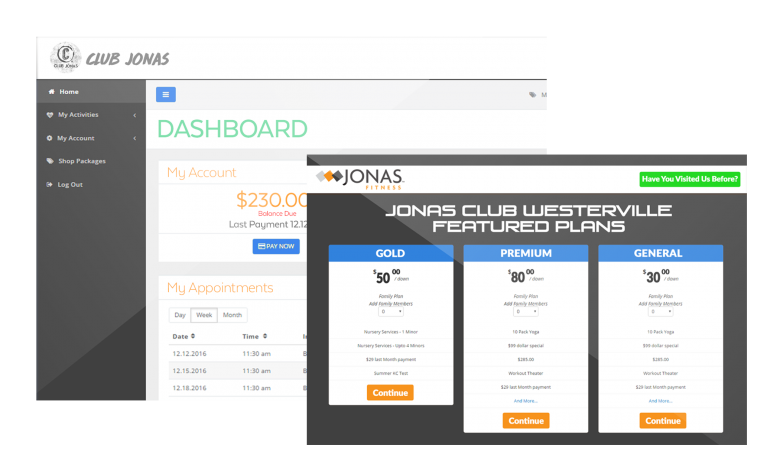 Join Online (JOL) & Empower M.E.
Online Sign-Ups & Member-Facing Portal
We offer an entire suite of member engagement solutions. At the head of the class are our Join Online (JOL) and Empower M.E. solutions.
JOL allows a prospect to sign up and pay for an agreement without ever having to step foot in your club. In today's digital environment, this is the perfect solution for the modern-day client, a way for them to connect, enroll and hit the ground running in their fitness journey.
To manage said journey, our Empower M.E. member portal provides your member all the tools necessary to take ownership of their membership. In their portal, your members will be able to manage their membership, sign up for classes, submit payments and manage their schedules. If on a family plan, Empower M.E. allows the head of household to manage payment accounts, sign up family members for classes and much more. 
A fully-integrated member management software solution.
Here's some more on what we do.

Custom Reports
Beyond our over 300+ canned reports, Compete® boasts an AdHoc Query Report Builder – allowing you to build custom reports at no extra cost. All reports are exportable to Microsoft Excel.

Channel Partner Network
We partner with the best-of-breed software companies in the industry via our open API. With a network of over 40 integrations, our software provides a hub for all of your connected software solutions.

E-Waivers & Agreements
Do away with a messy, inefficient paper trail. Compete® supports paperless agreements and e-waivers – housing all the information you need in a single point of access.

99.9% System Uptime
Year after year we've consistently met our goal of 99.9% system uptime. This means that our software is always 'on' so you don't have to worry about any missed revenue caused by software outages.

Ongoing Research & Development
There's always room for improvement. Our product team, delivers 3-4 strategic software releases every year and a dedicated R&D team whose only focus is to deliver on client-specific (Voice of the Customer) requests.

24/7/365 Support
We offer around the clock support for your club when it comes to our software. Whether you need some with a member record or find a bug in the product, you can be confident we'll always be there for you.
Compete® CRM Mobile Suite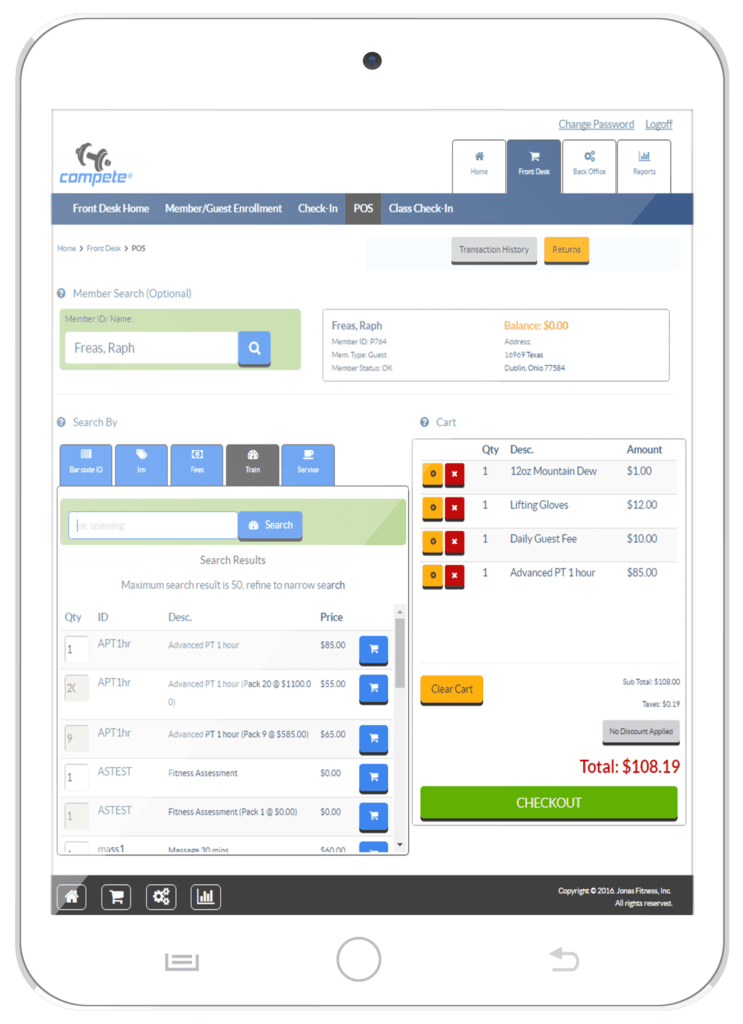 Compete "On The Go"
GET OUT FROM BEHIND THE FRONT DESK
Say hello to Compete® "On the Go" (COG), the mobile arm to our club management software; the alternative to the traditional, static front desk. 
COG allows your staff to free themselves from the front counter and sell to members and prospects while leading tours of your facility or on off-site promotional events. COG is the perfect tool to help you cut back on long wait times at the counter by helping you streamline the sales process. It provides you with all the tools you need out of your gym management software without the need to be stationary.


COG includes:
Tablet-Reponsive Interface
WiFi | 4G Network Compatibility
On-Demand Member Enrollment
Agreement Sales w/ Electronic Signature Capture
Class Check-In
Guest Enrollment
Point of Sale (POS)
Member Management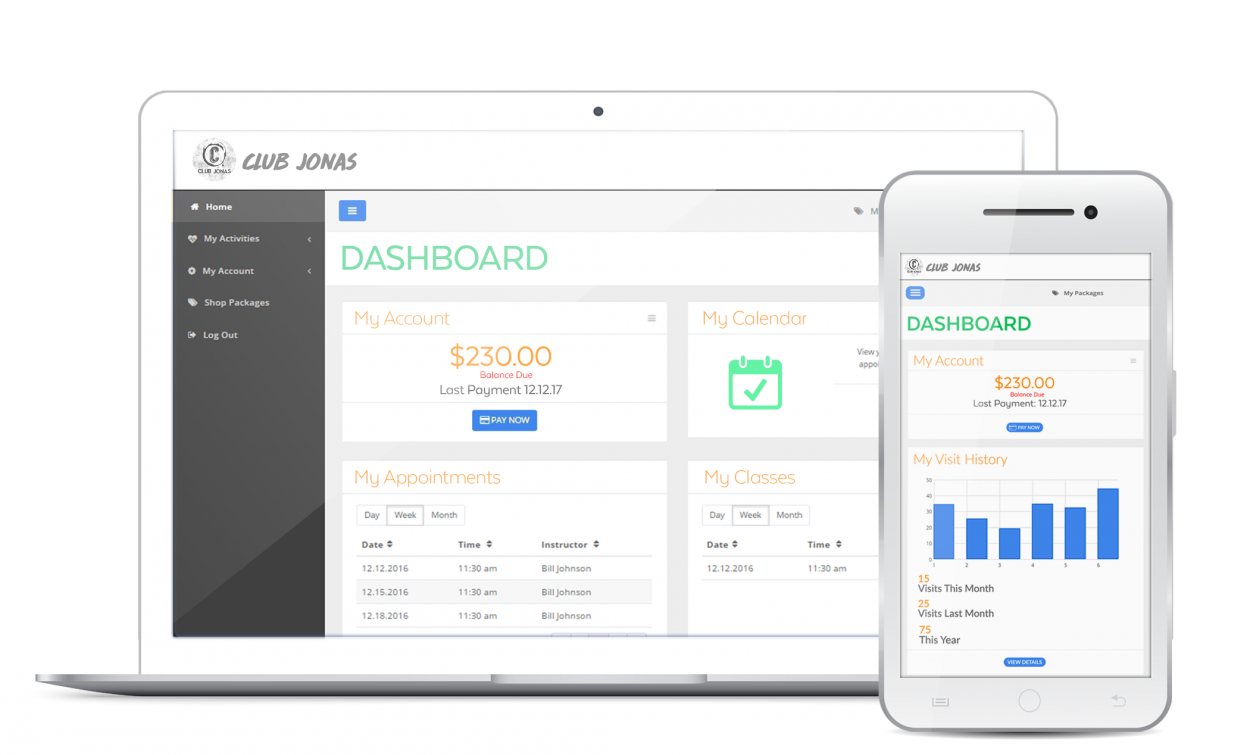 Empower M.E.
LET YOUR MEMBERS TAKE CONTROL
Whether at home, in the office, or on-the-go, your members should have control of their membership. With an innovative, mobile-responsive design, Empower M.E. is a fully customizable member portal that provides an immersive user experience with a focus on the "member journey." 
Empower M.E. provides your members' instant access to account history, online statements and electronic agreements history. Empower M.E. syncs with your Compete database ensuring your member's personal and payment information is always up to date, saving you the time and money of verifying expired member data.


Your members will have on-the-go access to:
Online enrollment
Class scheduling
Personal training calendar
Online payments with pre-specified credit cards making it simple and easy to keep their payment information up to date.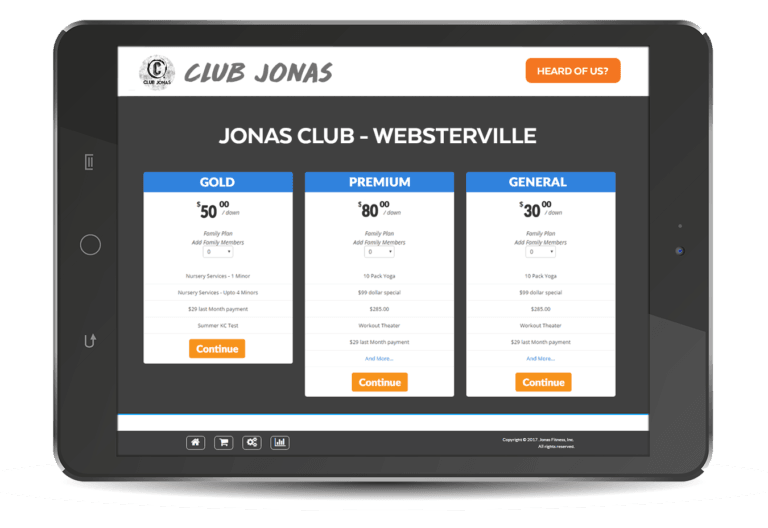 Join Online
ON-DEMAND MEMBERSHIP ENROLLMENT
Join Online (JOL) allows a prospect to sign up and pay for an agreement without ever having to step foot in your club. In today's digital environment, this is the perfect solution for the modern-day client, a way for them to connect, enroll and hit the ground running in their fitness journey.
Club-branded Join Online page on your website
Member profile, agreements and billing portfolio automatically set up in Compete after joining
Compatible with iOS, Android and Windows PC/Internet Explorer browsers
Real-time credit card processing of agreement & down payment
Optional member barcode delivered to member for first use upon club check-in
Free trial/guest pass option for prospective guests
"Best Agreement Plan" suggestion based on user preference input
Confirmation email sent to new member with link to club location using Google Maps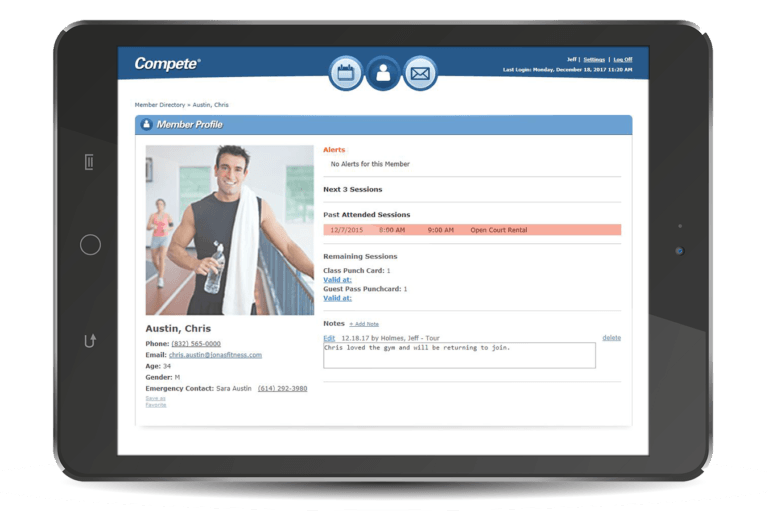 Employee Self-Service
EMPOWER YOUR STAFF
Employee Self-Service (ESS) enables you, your employees and personal trainers to more efficiently manage their schedules and connect with members.
Your gym staff will have on-the-go access to:
Daily, weekly and monthly calendar views
Full member contact listing
Secure trainer login using our Compete product credentials
Gives mobile trainers ability to view, create and change/cancel member appointments on the fly
Trainer can adjust daily availability at any time
Live access to club's Compete database with real-time data exchange
Compatible with iOS, Android and Windows PC/Internet Explorer browsers
Club Branded Mobile Apps by Jonas Fitness
Your custom branded club app on every member's phone.
The Club Branded Mobile App service by Jonas Fitness offers a fully functioning app that provides a convenient yet powerful platform for your business to engage with your members, whether they are inside your facility, at home or climbing a mountain.
Your mobile app will integrate seamlessly with your Compete software. This allows you to leverage your existing data to drive meaningful and dynamic content into the app, promoting secondary spend, attendance and, above all, convenience for your members.
It is also a useful tool to drive membership sales, as you can encourage prospects to download your app and claim free passes to your facility, a strategy that has helped some clubs double their conversion rates.
Features include:
Personalized club branding and presence on iTunes and Google's Play Store
Membership Barcode – convenient for your members and no more expensive card costs
Fit Friends – connect your members with each other with a social group messaging system
Targeted Push Notifications – send targeted messages to your members to drive usage or promotions
Available on iOS® and Android platforms
More features include Club Finder, QR code scanner, customizable promotions and guest passes
Truly integrated software, billing and payment processing at your fingertips. This is Compete® by Jonas Fitness.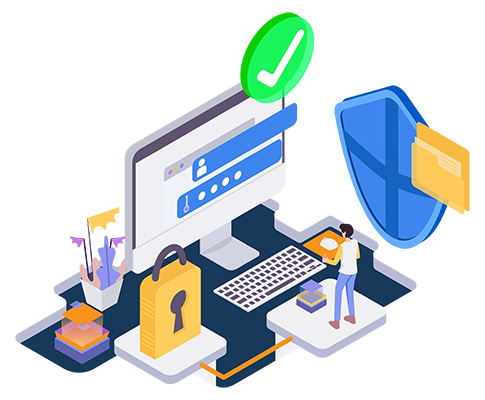 Experience the power of our patented, fully-integrated billing engine.
The Jonas financial network is an end-to-end PCI-certified offering that provides secure transmission of any transactions directly to the Federal Reserve and our credit card processing bank. Any EFT and Point-of-Sale (POS) payments made through our fully-integrated billing engine are reflected in real-time throughout your database. 
Developed by the pioneers in electronic funds transfer (EFT), our built-in processing engine helps you collect more of your money without the hidden fees prevalent in the industry.
PCI & EMV-Compliant
Our solution is end-to-end PCI certified. Giving you the confidence you need that all of your payments are processed securely.
1
Get paid faster
Prevent, reduce and collect declined payments faster via our proprietary EFT payment processing engine and integrated software with advanced billing tools.
2
Streamlined Accounting
Integrated EFT/POS processing means you can eliminate manual data entry – leading to more efficient reconciliation and accurate reporting.
3
Real-time data
All components of our software reside in one database so every transaction is updated in real-time across all instances of our platform.
4
Jonas Fitness delivers unsurpassed value in automatic EFT payments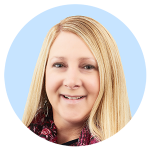 The Jonas team is like an extension of our Power Wellness family and we work very closely. They are are with us every step along the way, day and night, through new center openings and management acquisitions.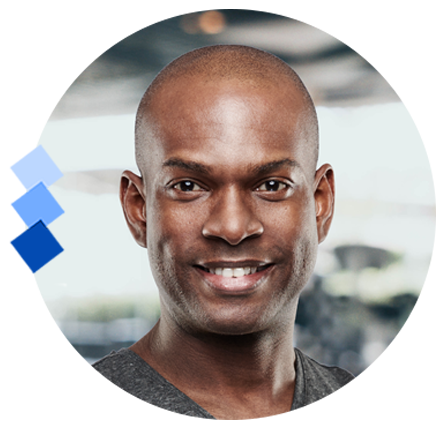 Take your wellness center to the next level.
Our PCI-certified, member management software solution is the ideal fit for smart operators like yourself – helping you keep a better pulse of your business through real-time data management.
Ready to move?
Fill out this form to request your free demo now