Empower M.E. Enhancements
Account History
The account history receipt layout has been updated to include unapplied payments. When a member has made a payment that has not been applied to any invoices, the receipt will be generated with no invoice details and it will indicate "invoices have not yet been assigned to this payment."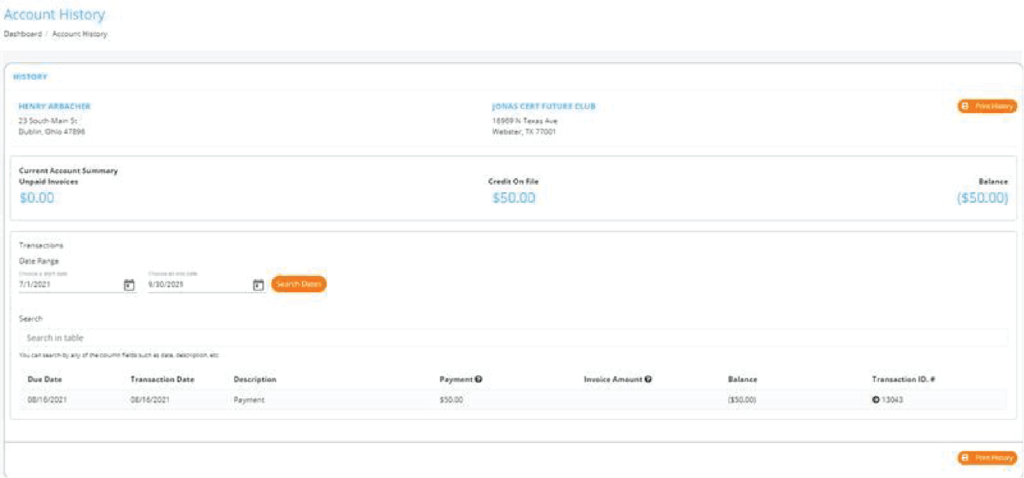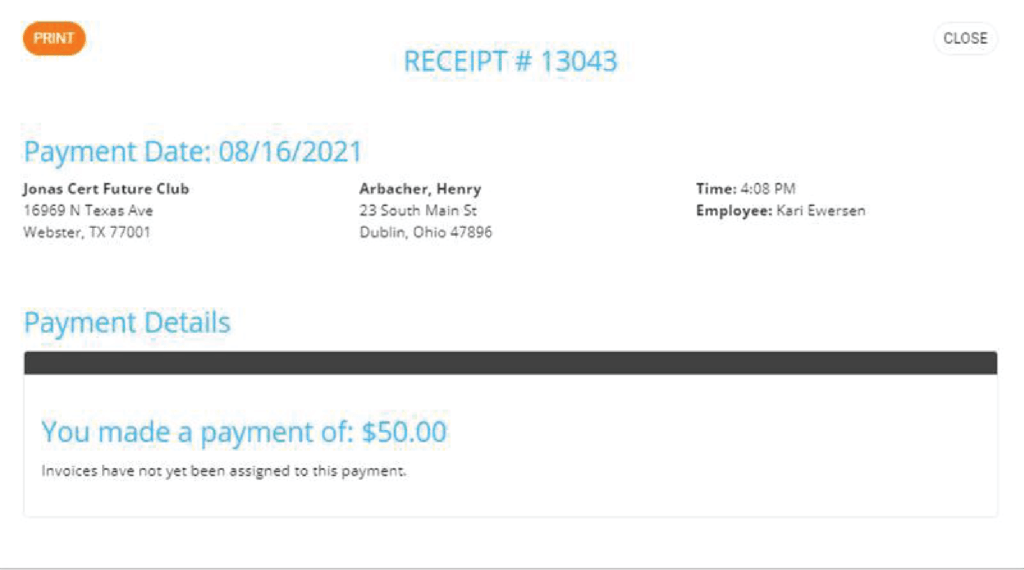 Note: These issues may not affect your club.
Billing: Reports: Recurring Fees – Agreement status filter now reflects terms with rollover agreements as approved and not expired when the date is in the past.
Billing: EFT Reports: Running the report for a single date (start date and end date) successfully shows data.
Reports: Member Tagging Table– Loading member tags no longer creates an error message for large tag sets.
EME: Manage Family Members: Family members with a % in their barcode can now be managed.
EME: Online payments are recorded in Compete even when the Online Payment Category is not configured.
EME: If you do not have a monthly dues product as an alternate FOP on your agreement for class enrollment and member is enrolling a family member the member will be prompted to pay the correct amount.
EME: Standby Promotion recognizes Alternate FOP when triggered by EME un-enrollment
EME: Prospect cannot place charges "On Account".
Change Request: Billing: Edit account number to same value shows appropriate message "No Changes Have Been Made".
Change request: When Change Request is used to change a member's Primary Agreement Club, all fields in the database are now updated correctly so the user will not receive an error.
Change Request: Status change: Correct 'old' statuses are showing correctly for family members.
Agreements: When a PIF Membership Plan is configured to prorate, the proration amount now updates accurately when the Effective Date is changed.
Agreements: User can now enter the max of 40 characters in the custom text fields in data entry and agreement sales.
Data Entry: Members: When you double-click on a member in data entry it will only pull up one member profile window instead of two.
Data Entry: Products: Class Enrollment Details – phone number of the second member will now display correctly.
JOL: When an Add-on member field is required, but not displayed in JOL, user is able to complete the sale when two or more members are entered.
JOL: When a JOL agreement has no down payment and $0 recurring dues, the user can now Review the Agreement and complete the sale.
Reports: Check-in History by Date report – Export view now displays date and time.
POS: $0.00 sale can be completed even when Cash is not available as a FOP for that station.
COG: Member's current username for EME is not changing to Member ID after purchasing New Agreement through COG.
COG: Agreements "First Payment Date' saves if changed.
COG: Now recognizes 'Referred By' as a Required Field
Booking: Club Pricing is now working in the Bookings Module.